My dear friend, Mrs. Cartwright, and I made our way to one of our favorite antique stores a few days ago. When we walked in the door Mrs. Cartwright spotted what appeared to be a writing box sitting on a table with a $65 price tag on it. Now, I have been looking for a box like this for ages, and the cheapest ones I have found run in the $120's and a reproductions made out of cheap wood with little decoration. I about fell over when I found this lovely.
    I took it home and showed Aaron, feeling quite convinced that it was probably from the early 1900's, until today. I started researching and after a few hours of scouring antique writing box sites, I'm beginning to believe it might be an original from around the late 18th and early 19th century. I would love to hear your opinions and see if you agree with me. I'll love it, regardless of its age, but it's exciting to think it might be the real deal.
   So, here's a few pictures of an original dated box from around 1800….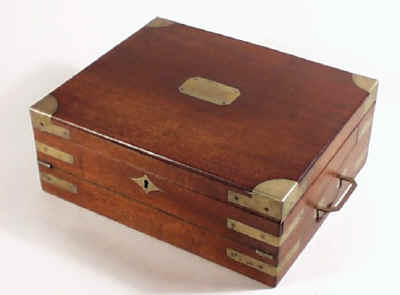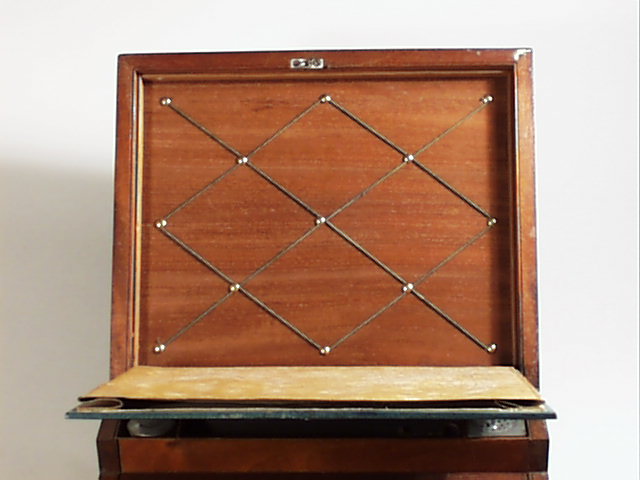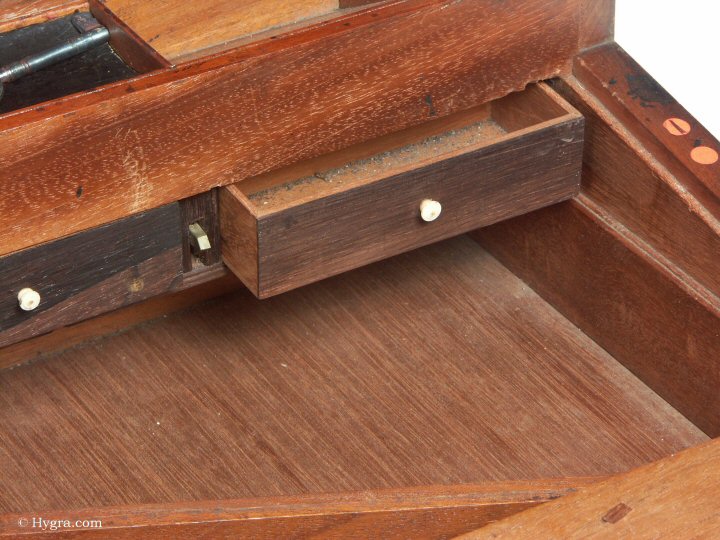 This is the secret compartment on the original.
Ok, now for some pictures of my box.
The workmanship is really beautiful. Everything is inlayed and well fit.
The box opened revealing the writing slope.
Each side of the slope opens to a compartment.
This sticker on the panel made be begin to wonder if it could be original. So I did some research and found a reference to Elizabeth Gaimes' shop in the UK National Archives. Here's what it said
[no title]  MS 11936/467/904379 23 February 1815
Contents:
Insured: Elizabeth Gaimes, 53 St Pauls Churchyard, jeweller and dealer in writing desks.
You can read more about the insurance that was purchased here… UK National Archives The Sun Fire Office
The pen holder is removable and there is a small compartment underneath it for storage.
The most thrilling thing I found was a small pigeon hole in the inkwell slot. I didn't notice it until about an hour ago. After I had looked at tons of pictures of these boxes with secret compartments. I finally put two and two together, I discovered that pressing on the pigeon hole with a small pin reveals this…
The pigeon hole
It has a secret compartment with two small drawers. I literally squealed!!!
The tiny knobs are so detailed. I'm not sure what they are made of. Bone???
I love the delicate dovetails on all of the drawers and corners.
So, what do you all think??? Could it be the real thing???
Love Lauren