18th Century ladies riding boots, do they actually exist? I have been researching this topic for quite some time and so far I have found next to nothing on the subject. Most of the equestrian paintings either hide the shoes beneath the skirts of the rider, like the painting below.
Or they show the ladies in dainty slippers like this painting of Lady Worsley.
Now, I have a hard time believing that they really wore such delicate slippers to ride horses and participate in other country sports. They may be beautiful, but they are completely impractical for wet and muddy conditions that one would surely find in the English countryside. Even in our outdoor events, I find my walking shoes impractical whenever mud and water is involved. I usually end up with muddy and soaked stockings, not exactly the most comfortable feeling. So, I can imagine an 18th century aristocrat would not appreciate wet stockings either.
Now, the riding habit below shows very heavy duty boots; they almost look like Hessians to me. However, were these accurate to the time period or were they added by the curator to complete the look of the riding habit for display purposes?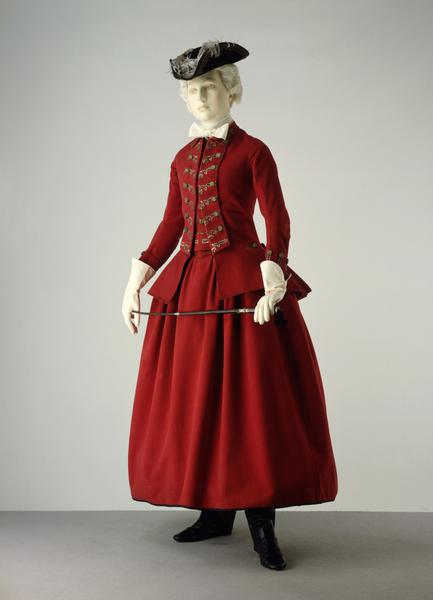 Now if you look very closely at the plate below, you can see a boot peaking out from under the skirt. Her boot seems quit practical. It has a bit of a heal to it, it clearly extends above the ankle, however we're not sure how high it actually goes, and it is still quite fashionable.
In fact there is a reproduction of a similar boot made by
Sarah Juniper
.
So, this leads me to ponder a few things. Firstly, these type of boots must have existed; so, how come it is seemingly impossible to find an extant example of them. Secondly, are there so few remaining because they would have been worn and not have lasted the test of time, unlike the dainty slippers in every fashion museum? Thirdly, how come we have so little documentation on them? I am researching so I can find some practical boots for walking and possibly riding that are period correct. I would love to hear your thoughts and finds about this subject. Please share :-)
Love Lauren